One thing that got me worried after last ride was the amount of muck and dirt thrown on the radiator. The front fender is quite short and a ride in the rain really messes the radiator. Pic below for reference

So I got front fender extender from Duke 390, cut it to match the fender of Street . It spoils the looks to some extent but does a great job in protecting radiator and keeping it clean

Below is pic after ride in rain.
The very large holes in the stock grill allow all of that muck through to the radiator which was one reason we created the aluminum replacement grill. Not only does it prevent larger size rocks from being tossed into the radiator that can damage the core it also prevents a lot of the road muck from being thrown into the radiator.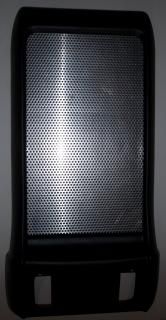 It won't block everything but the .125" diameter holes do block a lot of the debris and muck that easily goes right through the stock grill. I'm still working on the packaging but we should be offering this grill for sale in the near future. It is a relatively easy modification that anyone can make.