Discussion Starter
·
#1
·
Today is an important day. Finally got to ride around on the Street 750. I say important as it happened a full 2 weeks in advance. I was promised the test ride in the first week of April. Guess Christmas came early. In any case, I'm glad this happened - helped me confirm my faith in my early booking.
So here is a short lil writeup on what I felt.
Pre-test formalities:
Seven Islands Harley Davidson, the Mumbai dealership is quite thorough with their documentation. I'm glad to have arrived first. Handed in my driving licence and in return I was handed a temporary registration of the bike. Necessary in case of any unintended run ins with the local law enforcement.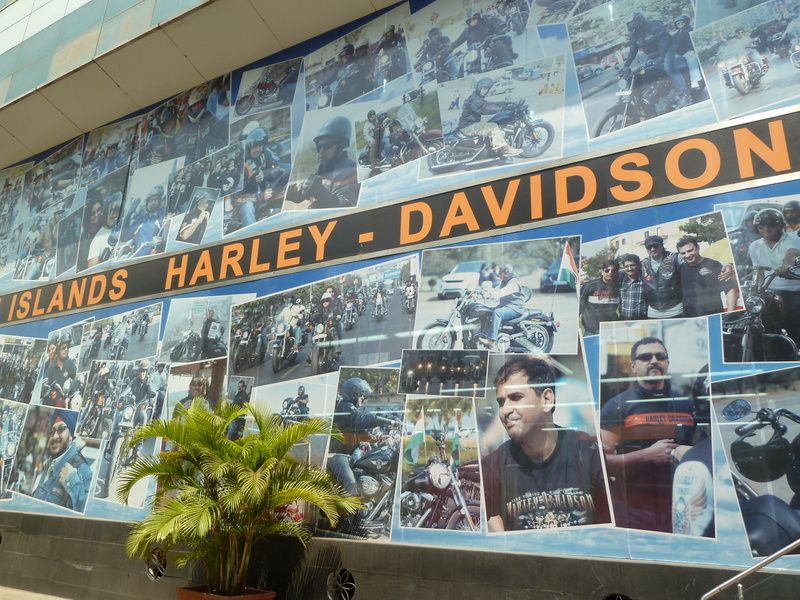 Collage on the facade of Seven Islands Harley Davidson, Turbhe, Navi Mumbai, India
The Bike
I was glad to see the bike when it was brought up. It was Red this time. This is the first time I got to see this colour. I feel that this makes the bike look a bit larger than it is. Maybe it is just that an all black lump feels more one with itself than the red. The front mud-guard, tank and rear fairing bring in patches of red that define the extremities of the bike a bit more than all black.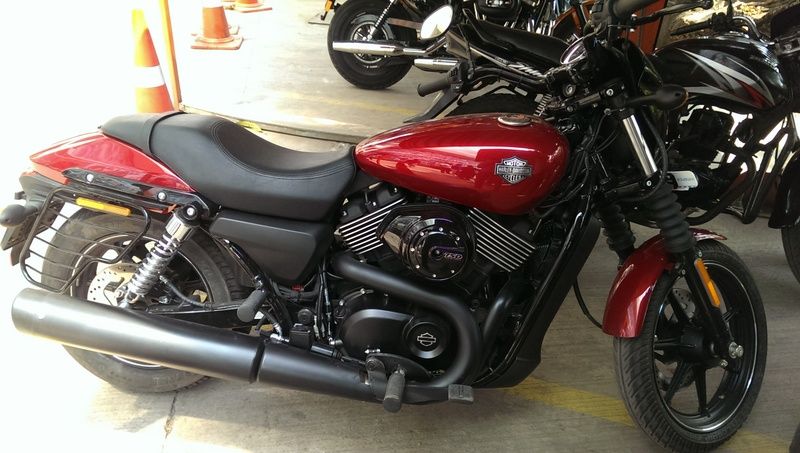 Guess I'll stick to my vivid black booking
I was given a bike that had just done 79km on the odo so it is safe to say that it was absolutely mint fresh out of its crate.
Controls and general stance:
I think the bike feels much better on the road than it did in the showroom where it had its front and rear wheels clamped down. Once loaded up, the bike settles down nicely. Seat height is perfect for my 5'8" frame. I don't think even taller riders would have an issue.
I liked the controls, levers and switches. Everything feels like there was focus on quality. Having said that, they do feel inadequate when compared to an Iron. Instrumentation may look identical but it may not be. For example, the Iron has a trip switch just above the horn and that toggles between odo-clock-trip1-trip2. Street only gets one button on the dial that toggles odo-tripA-tripB. No clock which I thought was a very handy feature. Specially coming from a Vespa.
Coming to the foot controls, I think these are set a bit too far back for a cruiser. They're more in the aggressive sports bike area. Not that I'm complaining but I'm unsure about their usefulness in daily office runs. We'll find out more as bikes hit the road. I'm sure this config will make for a great long distance mile cruncher. The handlebar maybe a couple of inches too wide for tight urban spaces and manic traffic of Indian cities. The wider bar does give more than enough leverage to move the otherwise front heavy bike easily.
Thought I'll allay some concerns that this gang had:
Gear shifts are light. Way lighter than the clunky Iron. Precise. No false neutrals.
Bike starts in gear just fine. Without the side stand that is.
Everything feels taught and made well. No squeaks. No rattles.
No fuel gauge but the bike gets a 2-liter-to-empty light on the clock
Other lights include: Engine check, neutral, left, right, low fuel, oil low and something else that I'm forgetting.
The whole clock glows red (I know I should've got a pic) and it is quite nice.
The lights are all precise and what you should expect when you buy something in 2014
Iron has a better LCD odo.
The Ride:
I'm gonna make this quick as it was a short 7km run on mixed roads – Highway, couple of twists, some traffic, a red light and return.
Street 750 is meant for the urban crawl and this bike does that really well. It gets off the line clean and easy. Clutch is light, progressive and precise. Acceleration is really strong and with just a light touch lots of things. Bike picks up speed and before you know it you're neatly doing a ton on the speedo and very quickly after you know the top speed is coming. Which brings me to an interesting question – How much is this bike capable of doing? Electronic limitation not withstanding. Braking is nice and easy but then this machine had done only 80kms. I can confidently say that there isn't a wrong noise anywhere.
https://www.youtube.com/watch?v=uy7xlE2ZwdM
Speaking of noise (ahem) exhaust note – this isn't what is popularly known as a Harley. No potatoes here. This sounds like the V-Rod for sure. Idle is a hurried v-twin revving away. It does not mechanical in a very Harley sort of way and it isn't a Jap or Euro machine by any stretch of imagination. I felt that the mufflers were trying to make this thing a tad too silent. Someone needs to put on some free flows and find out what it exactly can do in this department.
There areas where I personally have problems:
I need a heel-toe shifter. I love my shoes and I really need that to be an option which isn't the case right now. Getting ready for some fabrication once I get this piece.
There is a ton of exposed wiring and connectors which need immediate attention.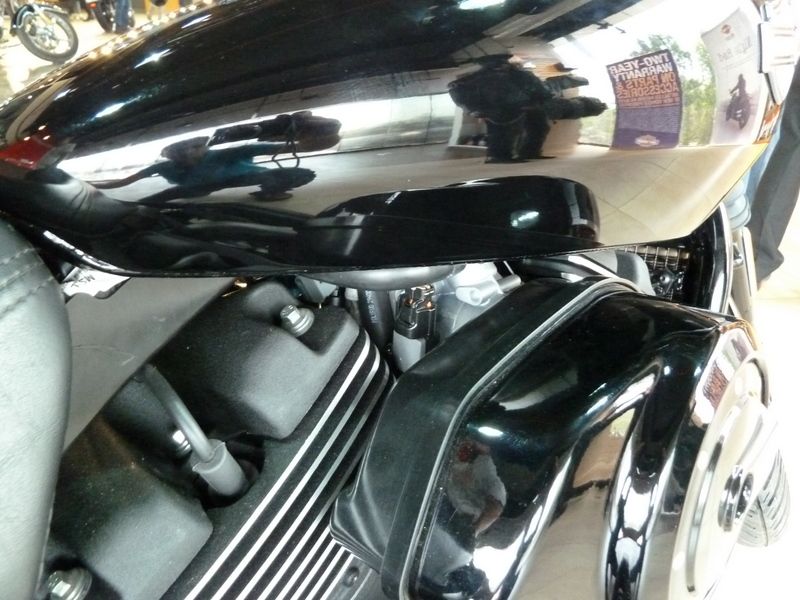 Notice the connector behind the air filter.
Part of the wiring loom and the rear brake switch have exposed connectors and wiring
Single horn with exposed wiring
No care was taken while leaving this entire loom exposed and tied down with just cable ties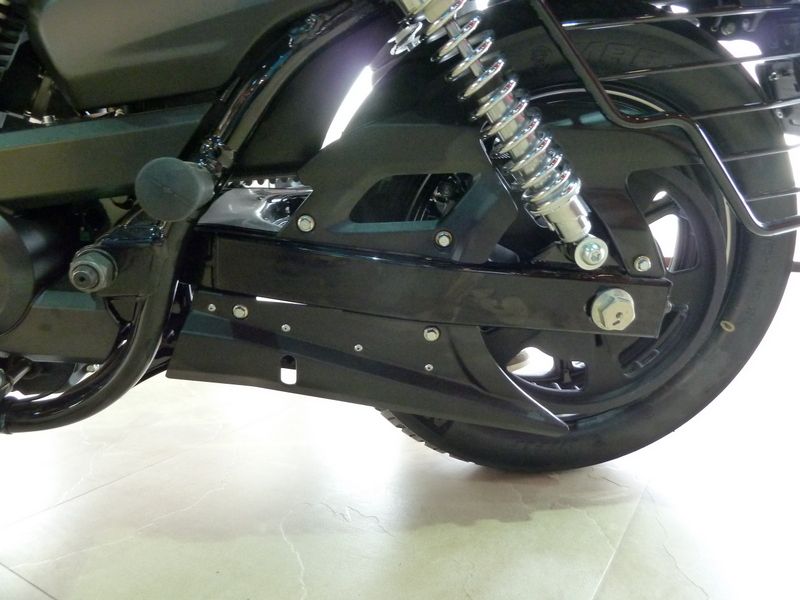 This whole belt cover is wrong and needs to go
No facility for dual tone horns. This one sounds like a moped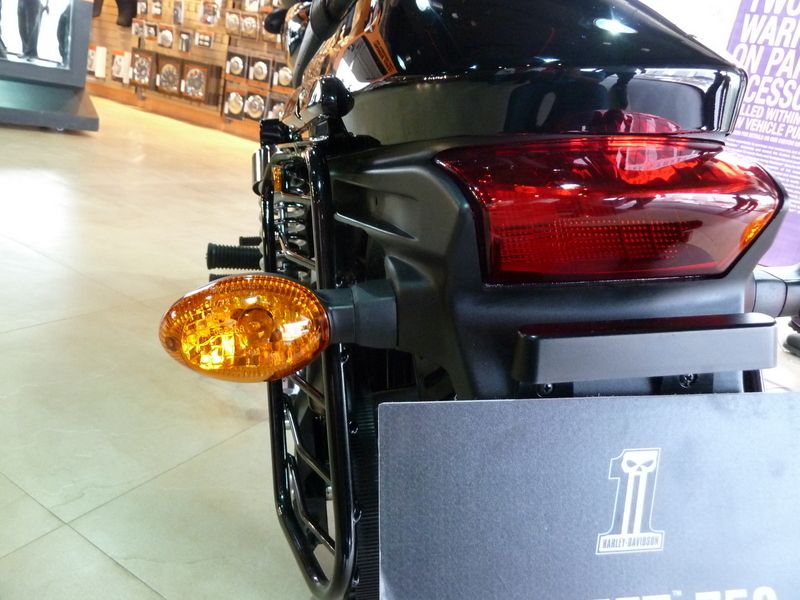 Cheap bulb filled bullet indicators that are out of place here
Overall, a fairly worthy investment considering that this bike is going on sale at a sub INR 500,000 in most places across India. My advice to you would be to go get this thing before any improvements are done.